Towed buoy and wake board Serre-Ponçon
Sbrava Nautique offers two superb activities at Serre-Ponçon lake, at Saint Vincent les Forts beach: the towed buoy and the wake board. Do you like thrills and / or board sports? Do you want to discover one of these activities in a superb setting? To give you complete satisfaction with this unique moment, our team will be happy to welcome you. The sublime setting of Lake Serre-Ponçon will crown it all: this moment will remain a pure moment of pleasure.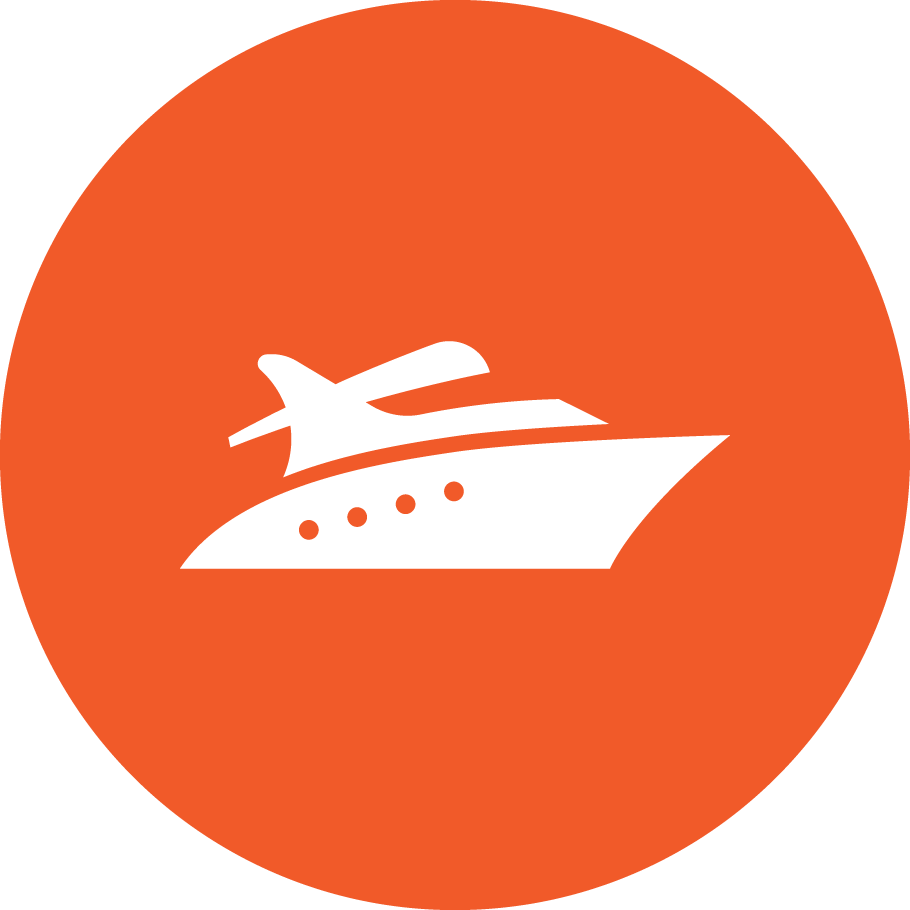 The towed buoy is a large inflatable buoy towed by a boat. The connection between the boat and the buoy is made using a towing rope. Once the buoy is pulled by the boat, the captain decides your course. It is a 100% fun time and 100% to share with friends or family. Choose from your family or friends who will pilot the boat. Watch out when your buoy approaches the boat's wakes: it shakes hard and you can even take off!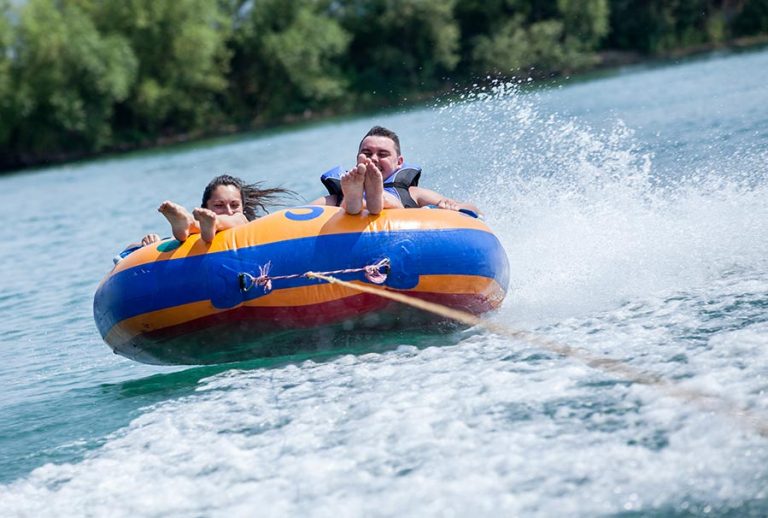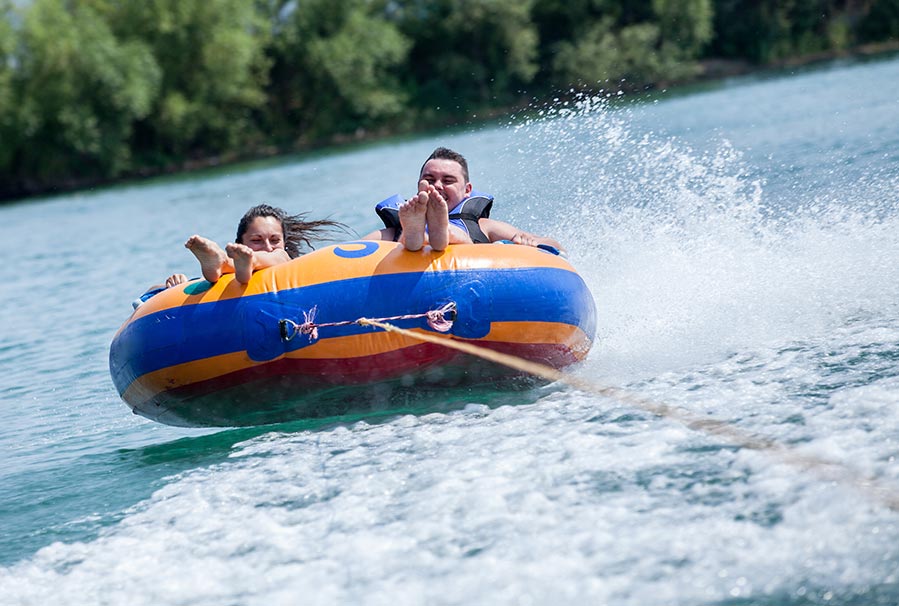 How much does the rental of a towed buoy cost?
With the rental of a licensed boat, the Sbrava Nautique base offers the rental of a towed buoy.
Towed buoy or wakeboard: From 10 euros per hour to 25 euros for 4 hours.
To see our rental
Where to do the towed buoy?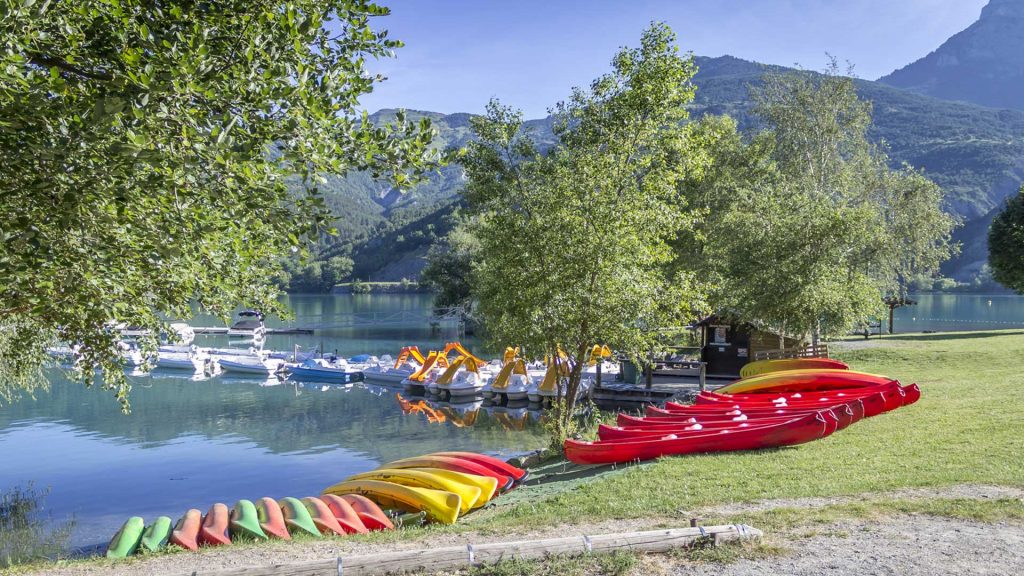 Sbrava Nautique - Plage de St Vincent les Forts - Ubaye Serre Ponçon
Are you in the Hautes-Alpes, near the Serre Ponçon lake? Your towed buoy is open to you: near the lake, at the beach of Saint Vincent les Forts, the Sbrava Nautique base offers a towed buoy for hire for a moment of pure pleasure.
How old to ride a towed buoy?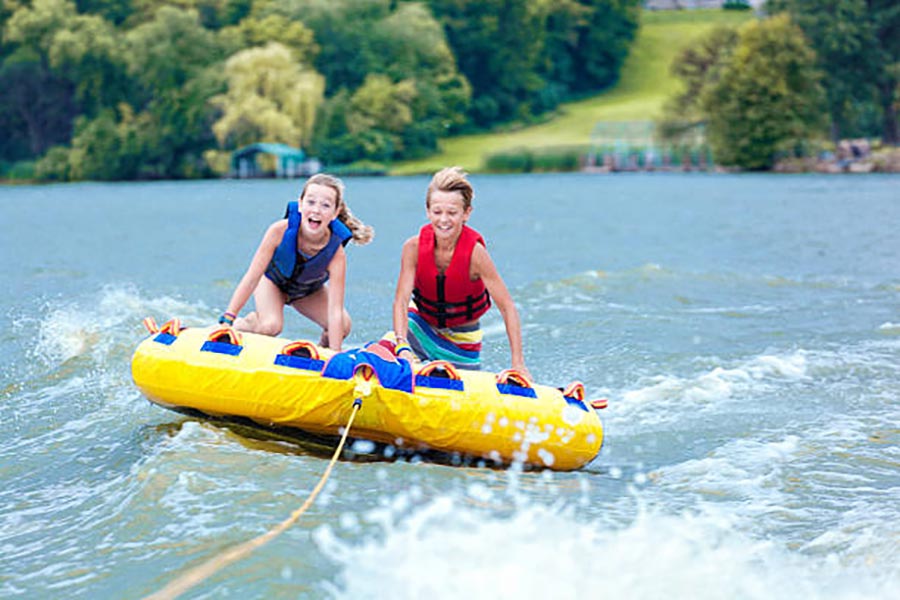 From 7 years old you can go on board!
Children are allowed to ride a towed buoy from the age of 7. It is estimated that below this age, the safety of children is involved. As a reminder, it is a very physical activity: you hold onto the buoy by the strength of your arms.
Which towed buoy to choose?
The choice of a towed buoy remains important. If only by its color: you need a color visible to other people around. Your buoy must be easily spotted. Then there are three types of buoys: buoys in a sitting position, buoys in lying down position, banana buoys. Choose the model of your buoy according to the number of people you are and the sensations sought.
Doing the towed buoy: what are the dangers?
Although the towed buoy is a time of fun and pleasure, there are a few safety guidelines to know. The speed of the towed buoy must always be well controlled by the pilot of the boat. As a reminder, it is he who manages the trajectory of the buoy and also its speed. A notion of safety distance from other boats and users will have to be taken into account so that this moment runs as smoothly as possible.
Wake Board at Serre-Ponçon lake
Do you like board sports and especially snowboarding or surfing? Wakeboard towed by a boat, does that mean anything to you ?! Sbrava Nautique offers you the possibility to put on your Wake bindings (shoes for wakeboarding) and be pulled by a boat piloted by a loved one. What could be better than to discover or improve your wake in a heavenly setting? Come and visit us at Serre Ponçon Lake, at Saint Vincent les Forts Beach.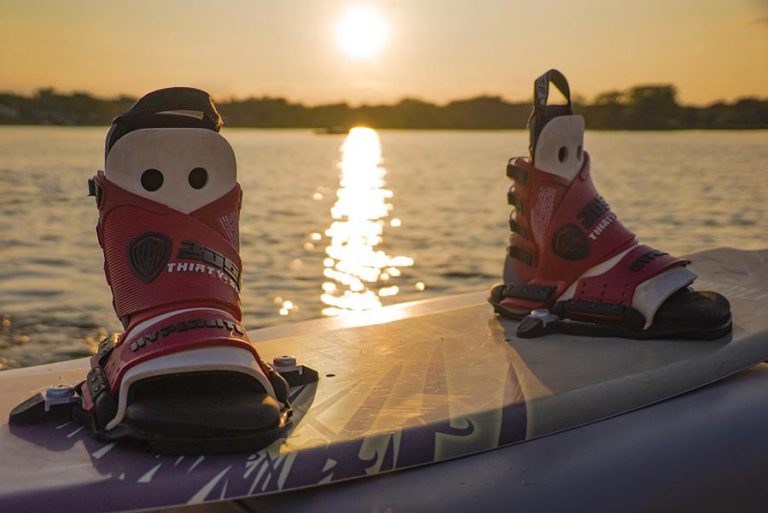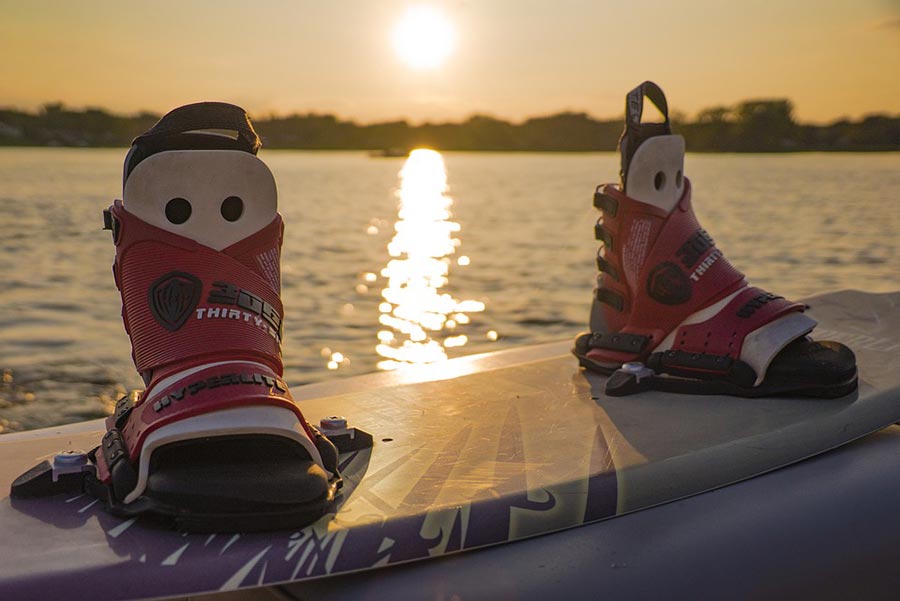 What is wakeboarding?
Wakeboarding is a board sport that is practiced on the water. It is a derivative of water skiing. It can be done in two ways: on a ski lift or towed behind a boat using a rope. The person at the end of the rope will hold a handle in their hands called the "lifter".
Which boat for wakeboarding?
To wakeboard behind a boat, it must be powerful enough. Sbrava Nautique offers you for rental the two PACIFIC CRAFT boats. With respective power of 130hp and 100hp, this is enough to tow a wakeboard or a buoy behind them.
Where to wakeboard?
In the town of Ubaye Serre-Ponçon, at our nautical base to practice only between you, or at generation gliss to learn with qualified instructors to practice or improve, With boats specific to the practice of towed nautical activities.

Wakeboarding for children?
There is no specific age to start wakeboarding. As with all sports, the sooner the better. However, you have to know how to swim and not be afraid of the water.
However, we recommend a minimum age of 10 years. The fact of leaving in the water and not of a pontoon like on a cable park requires a minimum muscular force in order to be able to get out of the water.
Board sports are above all a sport of balance. You will have to be quite agile with your legs and arms to be able to stand up at first.
How to start wakeboarding?
You are seated in the water on the float thanks to the wakeboard at the feet and the life jacket. The pilot starts, it will be necessary to resist the start and maintain the initial position. Don't try to get up too quickly and keep your arms straight. When you feel good downforce and traction from the boat, slowly get up while pivoting your wake in the axis of the boat. You are now standing on your board!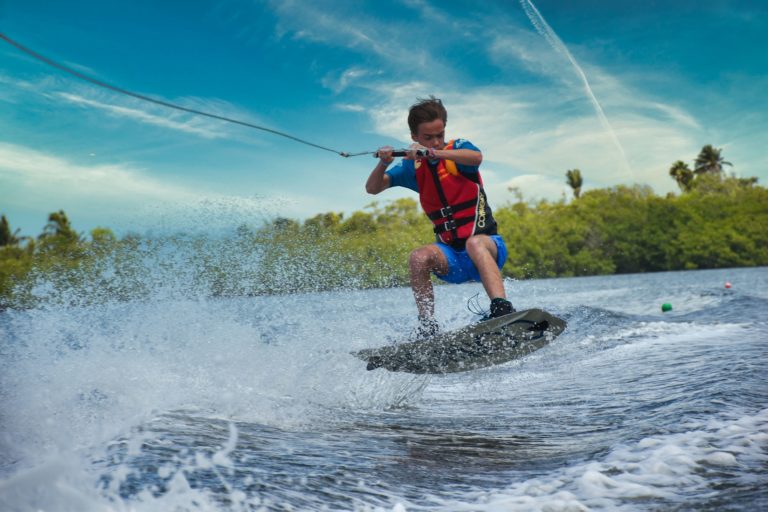 How to turn on a wakeboard?
It's all about heels and toes. For regulars (left foot in front): To turn on your left (edge ​​back), you will have to come on your heels; to turn right you will have to come to your point. For the goofy (right foot in front): To turn on your right (edge ​​back), you will have to come on your heels; to turn left, you will have to come to your point. To start, start by making small turns in the wake of the boat. Then, gradually, get out of the wake. In all cases: stay wrapped and cushion the waves with your legs
Our other nautical equipment rentals: