Pedalo rental at Serre Ponçon lake
For years, the pedal boat has remained a classic for tourist rentals on the shores of lakes, lakes or even in the open sea! Do you need a moment of relaxation during your vacation or your weekend? Sbrava Nautique offers you many pedal boats known as Pedal boat to get away from it all on the magnificent lake of Serre-Ponçon. A little getaway with your partner, friends or family aboard this pedal boat will do you the greatest good. A breath of fresh air guaranteed and a good time of fun and sharing! Climb aboard the Pedalboat to navigate the lake with confidence and at your own pace.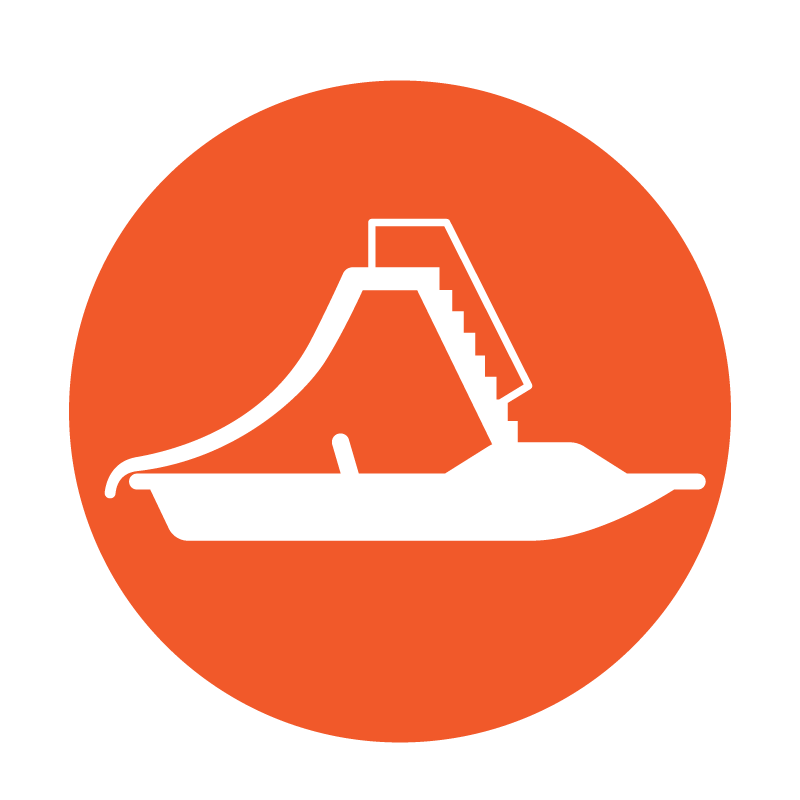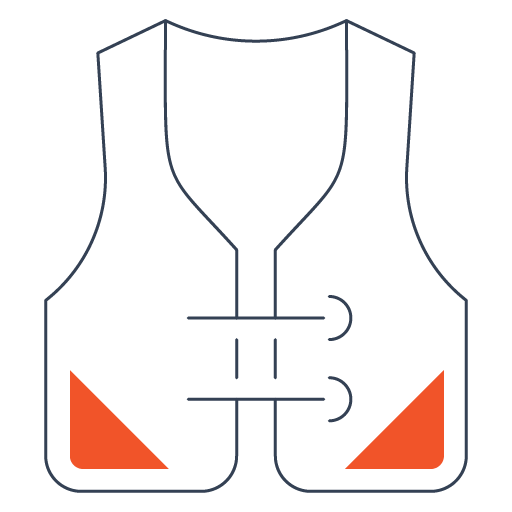 Our Pedal boats are all equipped with toboggan. Two people will be installed in the cockpit: we pedaland we manage therudder to stay on course! The other three people will be able to fully enjoy this getaway while admiring the landscape. This magical moment will allow you to combinerelaxation and sport with family or friends.
Equipped with a ladder, and very stable, they give you the equivalent of a mobile bathing platform to bathe wherever you want. Do not hesitate to explore every nook and cranny of thelake: our Pedal boats are very manoeuvrable! They are able to accommodate up to 5 people on board to have a good time and share.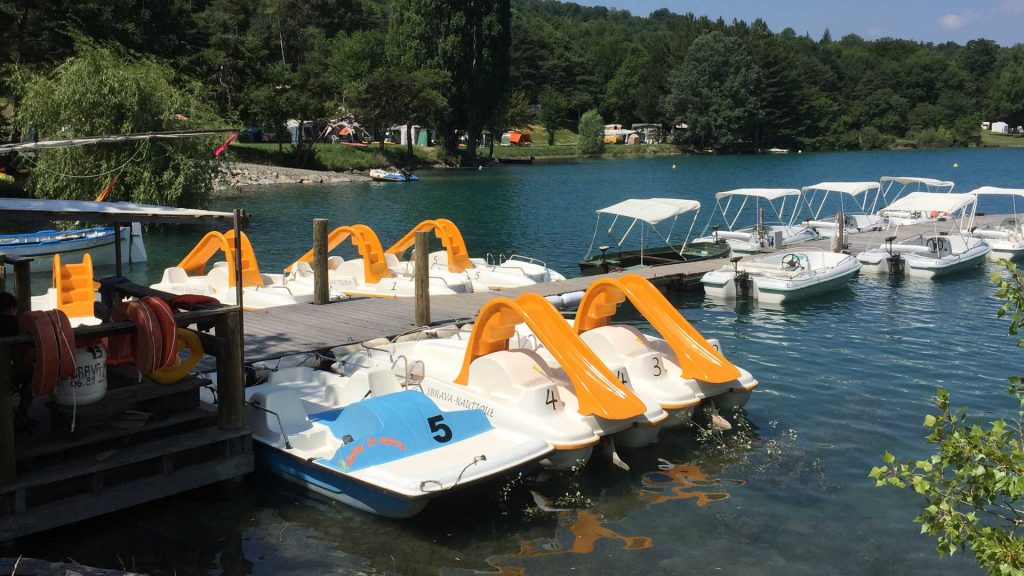 Our Pedal'boat are equipped with a slide
This setup is designed to give you the best time ever. Children and adults alike will be able to enjoy it for the duration of your getaway. The slide on the Pedal Boat brings even more fun, smiles and good times with friends or family. Slide or jump as much as you want and remember those wonderful moments.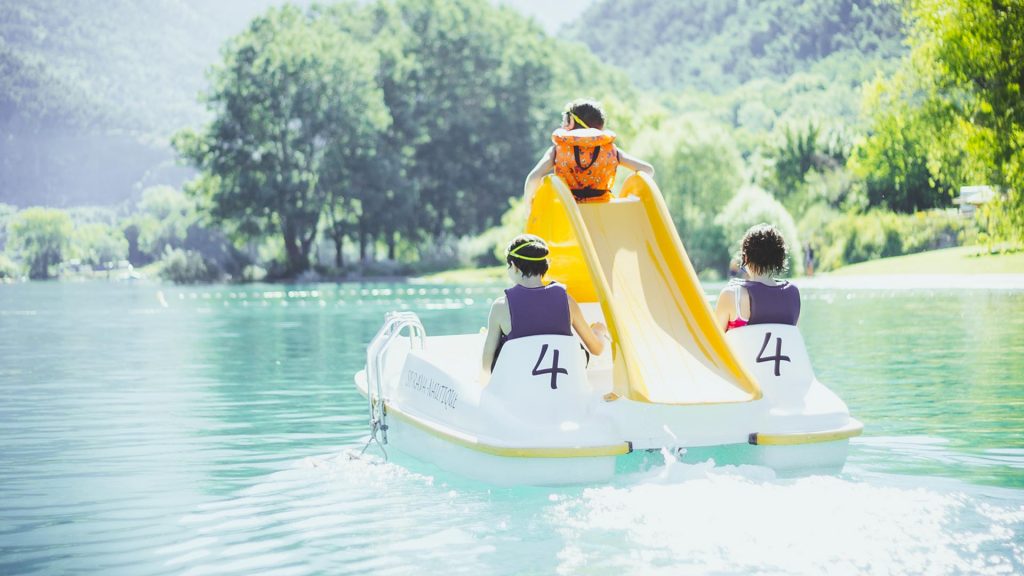 The whole family can go on board!
Our Pedal boats are designed for couples, families or friends. Sbrava Nautique spoils you and that is why you will be able to rent them and board up to 5 people on board. It's so much fun !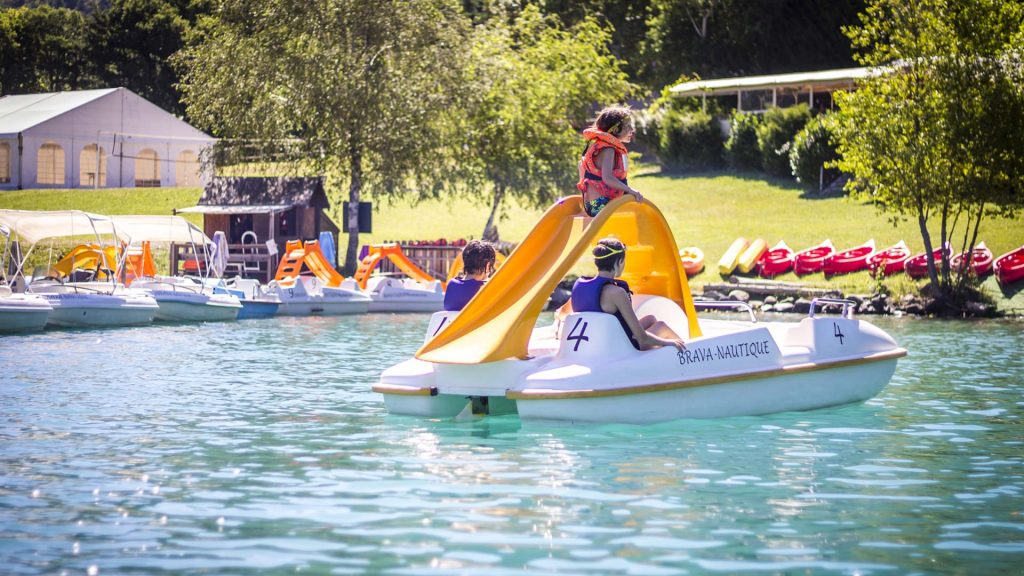 Some safety rules for a quieter navigation
Children must be accompanied. At least one adult is required on board the pedal boat for the duration of the rental. The life jacket is compulsory for people who cannot swim. The circulation is done along the banks, the middle of the lake being reserved for motor boats.
Where to ride a pedal boat?
Who says pedal boatsays water point! This activity is practiced at sea or on a lake. Are you in the Ubaye region and want to enjoy a moment of relaxation on a lake in a dream setting? You can go to Saint Vincent les Forts, a small town located in the Alpes-de-Haute-Provence department in the Provence-Alpes-Côte d'Azur region. Sbrava Nautique will welcome you throughout the summer season.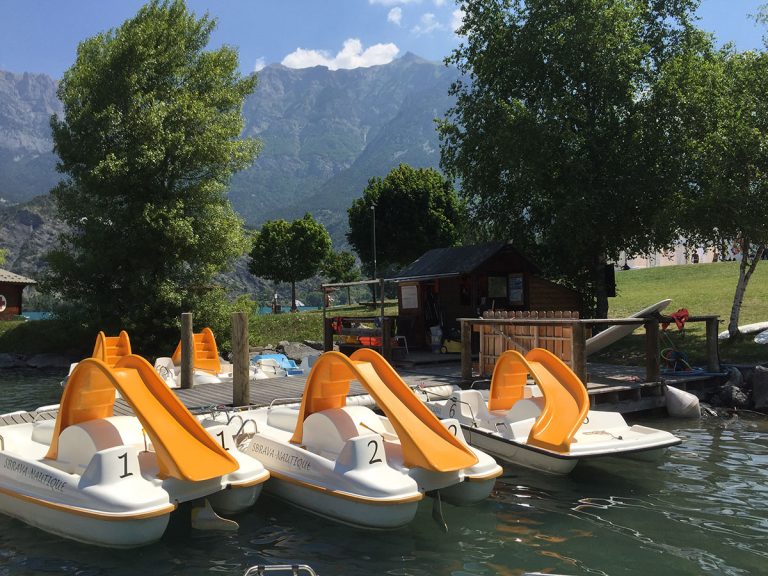 Where to rent a pedal boat?
We no longer present this ingenious invention of Ferdinand Louis which is the pedal boat! As you approach the Serre-Ponçon lake, near Saint Vincent les Forts, it will be difficult for you not to see the superb Sbrava Nautique nautical base. It is the meeting place to rent a pedal boatand have a good time with your partner, family or friends. Climb aboard one of our pedal boats and fully enjoy this wonderful place. Discover every nook and cranny of Lake Serre-Ponçon with your loved ones.
Rental price of our pedal boats
How much does the rental of a pedal boat cost?
Pedal boat (up to 5 people): 12 euros for 30 minutes and 17 euros for 1 hour
Our other nautical equipment rentals: